Stand Out in Job Applications with Our Captivating Cover Letters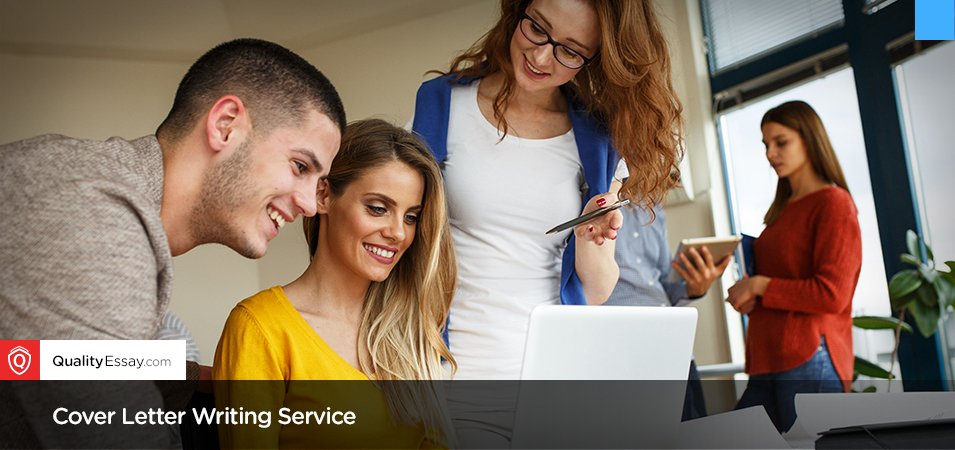 What Is a Cover Letter?
We provide a great cover letter writing service that will be of great use for all the ambitious people interested in promotions and getting accepted in new projects and jobs. It is not easy to write a cover letter without any professional assistance and guidance of the process. First of all, it is essential to learn about the objective of using a cover letter. You probably know that you have to send your resume accompanied with a special letter with the provided additional details on your exceptional knowledge, experience, and skills. So, this is a cover letter that you will have to write with the utmost care to all the details.
Effective cover letter writing services always make sure that the written letters cover all the details on your qualification and the reasons why you want to apply to a particular project or job. Mind that the information in your written cover letter should not be the same with the details from a provided resume. On the contrary, a cover letter should be supplementary for your resume as it gives specific information on your suitability for the job or position. It is a kind of marketing tools that will be used to get you to the stage of a job interview and differentiate you among the applicants. Your cover letter format should be exceptional to guarantee that a person who will review the applications cannot but make notice of your documents and your personality.
Expert Guidelines on Cover Letter Writing
Top-notch cover letter services have a list of obligatory items to be included as they are the guarantee of success. We recommend you to have a look at least at several samples of cover letters to gain understanding of how to fit all the information in a single page. The design of email and written cover letters is made to suit different jobs and various inquiries in the employment process. It is essential to personalize the letters as the employers feel that you have tried your best to present your inner self and your willingness to get the position.
Free extras
FREE amendments
FREE title page
FREE biblioraphy
FREE outline (on request)
FREE formatting
We guarantee
Quality research and writing
24/7 LIVE support
Fully referenced papers
Any citation style
Up-to-date soures only
PhD and MBA writers
Confidentiality
No hidden charges
Never resold works
What to Include into a Cover Letter?
Header
If you contact a reliable cover letter writing service, they will always start your letter with the contact information of your employer and your personal details. They will mention the name, address, cell phone, and email with the subsequent current date. Email cover letters should contain contact information as well, but it is given after the signature.
Cover Letter Salutation
There is no doubt that contacting cover letter services, you will receive a letter that will serve you as a great sample for years. Still, you have to learn the basic rules of cover letter presentation. Thus, you start with "Mr./Ms. Last Name." Write the full name provided that there can be a misunderstanding about the gender of an addressee. A general phrase "To Whom It May Concern" is not the best option for cover letters. If you are not sure about the name of the hiring manager, use the salutation in the following form: "Dear Hiring Manager."
Introductory Part
Effective cover letter writing implies being able to write great introductions that mention that positions or jobs to be applied for. You have to give thorough explanations of how you have got to know about the vacancy, especially if a person employed in that company informed you. Give a brief presentation of your experience and skills that suit the position you want to get. Writing a cover letter with no experience can be a challenge as you have to impress the employer and a poor cover letter can spoil the impression.
Body Paragraphs
Study some cover letter examples to see how your interest in a position can be presented in a single paragraph or two to show that you are a perfect applicant to be chosen. Let the employer know about your specific qualifications and give your brief explanations to each of them. A cover letter definition implies that it gives specific examples not restates the details of the resume to be effective.
Our experienced cover letter writing service can demonstrate how using tangible work examples from your experience can impress the hiring managers much better than paragraphs of plain text about communication skills or being careful with the numbers. We know how not to 'tell' about but to 'show' your personality.
Closing Section
Let us write cover letter for you and we will demonstrate the final part with restated skills and experience made in such a manner that sounds persuasive to the employer. If there is some space left, we will include a specific reason for your desire to work for this specific company at this particular position. We can give you a great cover letter that will being you numerous opportunities to get to the job interviews for further discussion of your personality. We can also include a follow-up if you provide us the required details for that. We never forget to leave a thank you note for the consideration of a hiring manager as it sounds polite.
Signature
It is a matter of tremendous concern to learn how to write a great cover letter as your future may sometimes depend on the quality of that writing. Complementary closing is preferable and your typed name should be placed after a handwritten signature. In the email, your contact details should be provided after a typed name.

Fill in the order form to place your order

Use one of payment options to pay for order

Log in to see the order progress

Contact your writer to discuss the paper's details

Receive your paper on time
Cover Letter Formatting
If you order a pre written cover letter, you will receive it done according to the standards of professional business writing. There should be the same font in the resume and cover letter, and it is important to make sure that it is easy to read and simple, like Calibri, Arial, Times New Roman, Georgia, or similar ones. The best size is 10 or 12 points large. The right and left page sides as well as the bottom and the top should have 1" as the standard margins. An additional space between the paragraphs is a nice way to add to the paper readability. Some cover letters have a lot of information included, so the authors reduce the size of the margins and fonts, but this method should also take care of the readability of a single page.
Our Professional Service: Your Expectations Exceeded
QualityEssay.com is the service that you have been thinking about. You need your resume and cover letter brought to perfection and personalized to attract the interest of the hiring managers. We have already assisted crowds of job seekers and they got their desired positions. We offer you a great price for great services. Our cover letter expert will take care of all the aspects of writing for you. Your employers will love the way your papers are crafted and they wil invite you for an interview really soon.


Why Should You Opt for QualityEssay.com?
Professionalism of the writers' team
Cooperating only with the certified resume and cover letter writers is our approach to work.
Your option of free revisions will be useful for you.
Friendly customer support
We will resolve every problem of yours.
We are specialized in all possible areas and industries.
Full refunds are possible in case of necessity within 14 days.
A successful paper is what we do for you!
Get
15% off
your
1st order
Use quality15 discount code
Testimonials
Thomas, Texas
The end result was excellent, I am sure I will get an excellent grade for this work!
Victor, California
I was very relieved to see one excellent job you have done. Thank you very much.
Yvonne, California
Brilliant work! It was completed very fast!
Jethro, Ireland
Writer 17205 did an excellent job. If anybody is looking for a writer, I will be sure to recommend him – well done!
Gordon, Australia
Very nice service, I received full replies to all my questions. And the customer service was very good too. If I need help again I will definitely come back to you.